Domus's Extensive range of Commercial/Industrial washer extractors are represented by the DMS and DLS Models in the family.
DMS Domus Medium Speed 300GForce extract and DLS Domus Low Speed 200GForce extract are available in 11KG,14KG,18KG,27KG,35KG,45KG and the Huge 60KG Capacities. With Touch 2 Controller these machines are fully programmable via the machine touch screen controller. Your laundry operator and chemical supplier will love this feature as it will allow them to tailor programs ,Chemical injection,water level, cycle time, extract speed and duration for the absolutely best and cleanest results possible.
Our slowest extraction speed of 200 GForce leaves other low speed extract machines behind, other brand low speed extract washers are only 140 GForce which means your linen needs more time and uses more gas to dry in your Tumble Dryers.
Our Hugely popular DMS Medium speed extract machines give you a massive 300 GForce extract, your linen will feel almost dryer as it comes out of the washer. This extraction speed will allow your sheets to go directly to your flatwork ironer for drying and finishing (depending on ironer type and model) of course your towels will dry 30% faster after our 300GForce extract when compared to other brands Low speed extract models.
Our New Domus machines are for the hard working laundry operator that wants a great machine with all the user benefits but at a Price that suits most budgets. Nothing is sacrificed in our Domus washer extractors, manufactured in Barcelona Spain and exported through out the world they have built an enviable reputation for a tough hard working machine that delivers outstanding wash results day to day, month to month, year to year.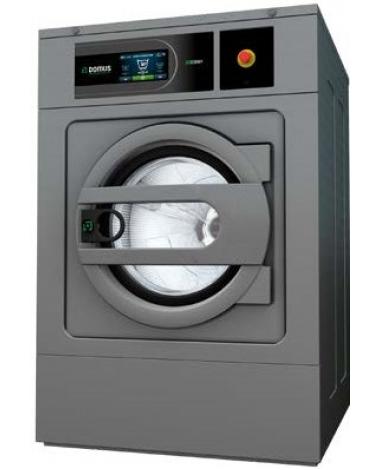 Manufactured in Barcelona these European made machines stand head and shoulders with the World's Best.
Offering a Large choice washer extractors with either 300GForce or 200GForce Extract.
With on line diagnostics, operating cycles, reports and machine status functions you will have the information you need to run
a successful and up to date Linen Rental or OPL laundry.
Domus's Big 2 Year Commercial Warranty adds another level to your peace of mind, the robust build and list of available options will be enough to satisfy your wish to offer the best service in town.
The DMS and DLS range of washers will give your laundry operators the range of machines needed to get through the BIG Days.
With smart attractive good looks, easy to read user touch screen, on screen cycle display and programmability - Domus's Brilliant range of hard working commercial washer extractors will Delight.
Showing 1 to 2 of 2 (1 Pages)