ISO9001 and CE certification

Super Duty Washer Extractors

10 water levels to reduce water consumption

Colour touch screen controller

Traditional Japanese manufacturing for Our Modern World

Built to last 20 years

All steel drain valves NOT Plastic

Massive Motor No other M/F comes close in motor size

Super large water inlet valves

Genuine High Speed Washer with +300 GForce

Soft Mount construction - minimal vibration

Steam or Electric booster heating

Choice of 100 available programs

Designed in Japan, Manufactured in Japan.

Capacities from 10kg to 118kg

Warranty 7years Main Bearings and Housing

Warranty 5 years Parts including Inverter and microprocessor.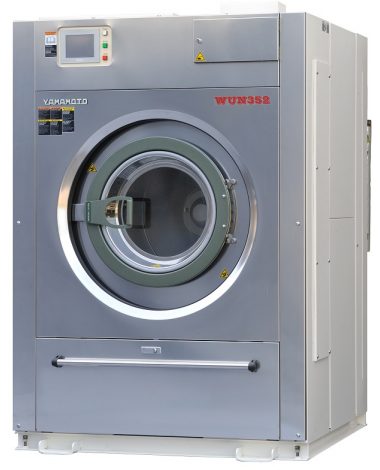 Powerful Performance Super Duty Operation
Yamamoto (Japanese made) washer extractors excell in all areas of performance and operation, why settle for brands that have slowly over the years reduced the quality of their machines to achieve low cost. Yamamoto believe that we still want long lasting equipment that is affordable, Yamamoto's factories are largely robotic this reduces the cost of labour so that we can pass the savings on to you. Your repair man will hate that you have Yamamoto but your financial manager and your laundry operator will be very happy with your choice.
All Yamamoto washer extractors are high speed soft mount style washer extractors with +300 GForce extraction, many other brands try to pass off Hard or Rigid mount machines as high speed extract when they are only 200 GForce extraction (medium speed extract) or less.
This makes a HUGE difference to your laundry utility bills - the lower the GForce extract the Less moisture is removed from the linen.
Of course this means longer drying time, more gas consumption and extra heavy load for your dryers to handle.
Yamamoto's range of High Speed Soft Mount extract washers will never disappoint - maximum dewatering of your linen , reduction in gas consumption, no shock or stress being transmitted through your machine frame and into your building during the spin/extract step.
Yamamoto - Traditional Japanese manufacturing for Our Modern World.
Simplification of mechanical maintenance.
Periodic machine maintenance tasks may be completed by any competent tradesman. Access via the front or rear panels allows easy entry into the workings of the machine. These machines are a joy to own and operate
Introduction of detergent and chemicals is standard.
Equipped ready to accept automatic soap injection. Or dosing via the self flushing hoppers. Your chemical supplier will love how easy these machines are to program and connect their chemical pumps .
Showing 1 to 5 of 5 (1 Pages)