Domus's enviable reputation has been built upon a dogged determination to deliver commercial washers and tumble dryers that continue to perform under the most difficult conditions.
Coin and Non coin operated machines are available for the astute operator delivering long term reliability with long lasting good looks.
Available in both front load, stack washer dryer, Large capacity front load washers ,double dryer with gas or electric heat, single dryers.
Newly available is Domus's new cashless system that accepts debit/credit cards/apple pay/google pay etc. As soon as your clients pays for a cycle the money is deposited into the account of your choice - cashless also takes away the temptation for would be vandals and thieves that want to access the coin box often causing hundreds of dollars of damage and inconvenience. The perfect choice for coin store laundries, university college wash house, back packer hostels and caravan parks.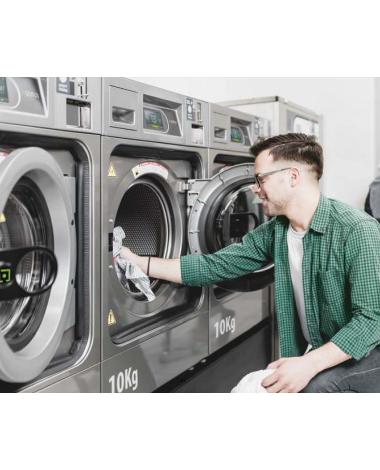 Manufactured in Barcelona these European made machines stand head and shoulders with the World's Best.
Offerring a choice of Coin, Cashless or both combined your clients will have every payment option available.
With on line diagnostics, operating cycles, reports and machine status functions you will have the information you need to run
a successful and up to date coin store laundry.
Domus's Big 2 Year Warranty adds another level to your peace of mind, the robust build and list of available options will be enough to satisfy your wish to offer the best service in town.
The HPW and DLS range of washers will give your clients the range of machines needed to do the largest wash in the one load.
With smart attractive good looks, easy to read user touch screen, on screen cycle display and choice of vend style - Domus will Delight.
Showing 1 to 4 of 4 (1 Pages)