Available in drum diameter size of 500mm, 650mm, 800mm, 1000mm
Drum Roll length 2000mm, 2600mm, 3300mm
Gas, Electric, Steam Heating
Optional 1 person feeder, lateral and cross folder, automatic stacker, front return and rear return
Automatic cool down and shutdown
High Quality Nomex belts
powerful exhausts
Atmospheric or High Performance Radiant burner
Optional Chromed Cylinder
Optional small piece collector
1 or 2 lane models available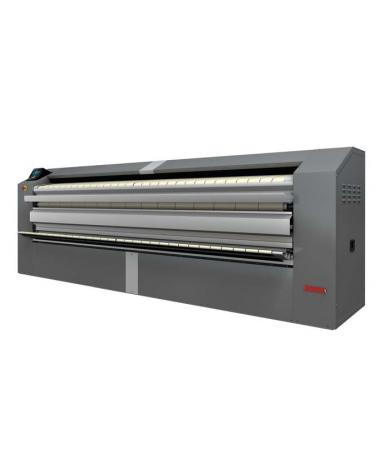 The Domus larger flat work ironers have a combination of models available with the professional linen hire operator in mind.
With integral lateral and cross folder and stacker these models will dry, iron, fold and stack ready for delivery to your clients.
Delivering perfect folds and crisp linen , your clients will be impressed with the clean fresh feel that professional ironers are expected to deliver.
Throughput of 140 - 350 sheets per hour (depending on model) when fed directly from your high speed extract washers. No pre-drying required.
Feature packed and Available with front or rear return, Optional 1 person automatic feeder, Lateral and cross folder.
Auto stacker with incline conveyor, Small piece collector at rear, Chromed cylinder, Auto Cool down, Auto shut down.
Prices Starting from $39,900.00 + GST
To fully featured Ironers Starting from $ 137,000.00 (ironer + rear exit + lateral and cross folder + stacker ) Gas Heated model.
Showing 1 to 1 of 1 (1 Pages)