Yamamoto's
NEW Combo Washer Dryer
with Inbuilt LPG or Natural Gas Burner for Drying
ISO9001 certification

Japanese Made

Touch screen control

External Cycle Indicator Lights

Australian Gas Association Approved 8883G

High Speed Soft Mount

LPG or Natural Gas heating

Choice of 120 available programs

Combo Capacities up to 24KG Dry in Dry out

Wash capacities up to 35KG

Drying Capacity up to 24KG

Warranty 7years Main Bearings and Housing

Warranty 5years Parts including Inverter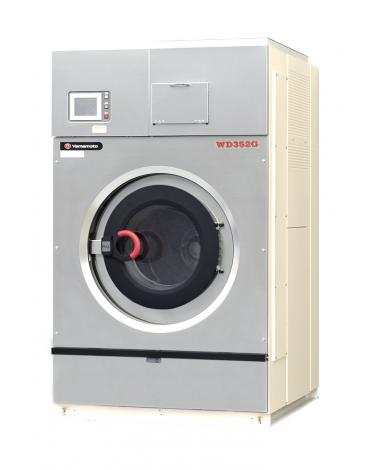 Reduced Footprint
Increase your staff workspace by using the remarkable Combo washer/dryer no need to move wet heavy laundry from washer to the dryer. Your staff will really appreciate the heavy work load reduction.
Dryer fan motor blowing formula.
Inbuilt Gas Heated burner to efficiently dry washed linen - drying takes place automatically at the end of the final extract.
At the end of the drying cycle a Blue Indicator Light is displayed along with a buzzer to let staff know the cycle has ended if the linen is not removed an auto safety toss and tumble activates.
By using the Dryer unloading of goods can be performed easily.
Reduced risk to Operators - OH&S issues are considerably reduced - the linen goes in unwashed but dry and is returned clean dry ready for unloading, the linen is easy to manage, risk of injury to staff that would normally be possible removing heavy wet linen is reduced.
Reduce drying time via the highest possible extraction for maximum dehydration before the drying step
By allowing for the Highest maximum GForce during the final extract, the machines drying time and thus gas use and linen wear and tear are kept to an absolute minimum.
Showing 1 to 2 of 2 (1 Pages)